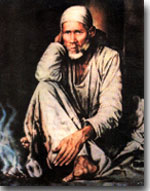 'Dhuni' is the Sacred fire that perpetually burnt before Baba in 'Dwarkamai' mosque. He always used to sit by the side of 'Dhuni' and look at it deeply absorbed in thought.
Fire is a manifestation of energy of which the whole universe is made. The fire sacrifice stands for the cosmic consciousness in which the manifold creation is projected, maintained and constantly transformed. Hence, the 'Dhuni' is the symbol of 'Chidagni' or Cosmic energy.
'Dhuni', which is perpetually burning at Shirdi, is the fire sacrifice for burning down the sins to ashes for those who seek complete refuge in this peerless Master.
Baba used to distribute the 'Udi', ash of this sacred fire to all who came to Him with faith, as a token of His grace. Today also the devotees partake a pinch of this sacred ash as a token of His blessings. The Sacred Ash (popularly known as UDI) had curative powers in it and whosoever visited Shirdi used to carry it with him. Today, due to the visit by a large number of devotees, a spoon full of this Ash is given.