Dr. Chandra Bhanu Satpathy is a noted Spiritual Thinker, Writer and Philanthropist. Dr. Satpathy was born in Cuttack, Odisha, India, to a family of academicians and administrators in the year 1948. He completed his Bachelor's Degree in Political Science (Hons.) from Ravenshaw College, Cuttack under Utkal University in 1968 and Master's Degree in Political Science from Ramjas College, Delhi University in 1970. After teaching Political Science in Hastinapur College – E (presently known as Motilal Nehru College), Delhi University for about two years, he joined the Indian Police Service (IPS) in 1972. He served under the Governments of India and Uttar Pradesh in various important assignments till his retirement as Director General in the year 2008.

Over the years, Dr. Satpathy has been propagating Indian Philosophy, Spiritualism and Culture, not only in India but in other countries as well. Under his inspiration and guidance, more than two hundred centres and forums devoted to philanthropy, community development, spiritualism and promotion of Indian culture, are active in countries like USA, UK, Canada, New Zealand and other places. He visited the Holy Shrine of Shri Sai Baba located in Shirdi (Maharashtra) in 1989, and ever since has been spreading the philosophy of Shri Shirdi Sai and Indian philosophy assiduously over a span of 25 years. Dr. Satpathy is also well-known for propagating Indian culture all across the globe. He is the Founder President of Shirdi Sai Global Foundation (a charitable trust) through which he carries out his noble mission.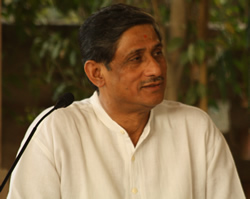 Dr. Satpathy has not only inspired the setting-up of schools, medical and veterinary care units in different parts of India but has been associated as their Patron and guide. Such organizations are engaged in charitable activities like conducting health camps, running of dispensaries, providing free food, shelter and rehabilitation to the needy and destitute, both during normal times and natural calamities. Dr. Satpathy has constantly endeavored towards the welfare and empowerment of the underprivileged and differently-abled sections of the society. He is the Patron of an NGO dedicated towards the welfare of the differently-abled people and he is the Founder Patron of another NGO working for the welfare of the underprivileged, especially women and children. He is also the Founder Patron of three leading educational institutions, namely, Sai International School, Bhubaneshwar (Odisha) , Shirdi Sai Public School, Moradabad (U.P) and Silver Oak Academy Shirdi, (Maharashtra), which provide value-based education (with international affiliation and student/teacher exchange programs) including free education for the poor and needy. Most of the organizations working under his patronage take special care to inculcate the cultural values and heritage of India among the children through well-designed programs.
Dr. Satpathy is a multi-lingual writer of eminence who has a large number of books in English, Hindi and Odia languages to his credit. His magnum opus titled 'Shri Guru Bhagavat', originally written in Odia language, is an inimitable spiritual treatise, which gives an encyclopedic coverage, of the entire gamut of Guru Parampara which carries the glorious tradition of Indian culture. Five volumes of the treatise consisting of more than twenty thousand lines written in Odia language have already been translated into English and Hindi languages. A few volumes have been translated in Assamese, Bengali, Telugu, Marathi, Kashmiri, Gujarati as well. In 2010, his book titled 'Gopya ru Agopya', which deals with Hindu Cosmology and Cosmogony (Hindu Spiritual Science) and written in Odia language was published along with its Sanskrit version titled 'Shristi-Tattwanu-chintanam'. In the World Sanskrit Conference 2012, held at Delhi and opened by the Hon. P.M. of India, 'Shristi-tattwanu-chintanam', was appreciated as a distinctive philosophy, by the global Sanskrit scholars. The original writings of Dr. Satpathy consist of 30 books on philosophy, spirituality, life and teachings of Shirdi Sai Baba and other Saints of India in English, Hindi and Odia languages. A few of these books have been translated in nine Indian and five International languages like German, Spanish, English, Nepali and Slovenian, thus adding up to another 70 titles to his credit. His messages find a place in seven printed magazine published in Indian languages and English besides 3 e-magazines.

Following the rich tradition of classical music in India, Dr. Satpathy has written lyrics and composed more than forty Cassettes /CDs on devotional music and hymns, some of which have been released by leading music houses of India like The Times Music, Sa Re Ga Ma and T-series. Dr. Satpathy has popularized different forms of Indian music, dance, art etc. Besides, he promotes such Indian dance forms, which are on the verge of extinction like Goti Pua of Odisha. He has been encouraging the differently abled persons to dance and express their inner joy and thereby finding a meaning to their life.

Thus, over the decades, Dr. Satpathy has been striving continuously to propagate the rich cultural heritage of India in the world and has bridged the gap between the nations by bringing people together when spreading the message of peace, love and humanity. For his exemplary contribution as a spiritual thinker, philosopher and philanthropist, he was honored with the 'BUILDING BRIDGES ACROSS THE NATIONS AWARD' by WASITRAC (Washington State India Trade Relation Action Committee) in Seattle, State of Washington on the 27th of September 2012.

Dr. Satpathy was invited by the Chaplain of the House of Representatives of the US Congress to open the session of the House on the 24th June 2015 with an invocation as a Guest Chaplain. He is the first Indian to have received such an honor.

Besides, Dr. Satpathy has also been recognised by Lt. Governor of the State of Washington, USA, for conducting humanitarian activities like organizing medical camps, rendering help during natural calamities and education for the underprivileged (2012); recognised by the Mayor of Seattle, USA, for spreading the message of humanism, purity, love and compassion (2012); and felicitated by Congressman Adam Smith of Washington State, USA, for literary and scholastic excellence and humanitarian activities (2012).

In recognition of his scholastic achievements, Dr. Satpathy has been conferred with 'Honoris Causa' – Vachaspati (equivalent to D.Litt) from Rashtriya Sanskrit Vidyapeetha, Tirupati (2012); LL.D from Berhampur University (2012); D.Litt from Ravenshaw University, Cuttack (2013); D.Sc from SOA University, Bhubaneshwar (2014).

Dr. Satpathy regularly spends a lot of his time and energy in addressing students and scholars in educational institutions and people at large in different forums and different countries. He believes and practices simplicity in all aspects of life. Saints like Shri Kabir, Guru Nanak Devji, Shirdi Sai Baba, Shri Ramakrishna Paramhamsa and Shri Ramana Mahrishi inspire him a lot to serve the downtrodden and the poorest sections of the society. According to him, temples should not be dedicated only for the worship, theyt should function as centres of human service to all sections of the society. "Love cannot sustain without mutual tolerance, and devotion cannot exist without love", he says.