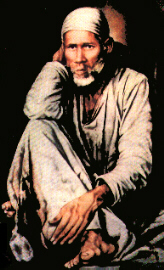 | About SriSai | His Teachings | Shirdi | ChildrenSai | Album | Aartis |
| Perfect Masters | Temples | SriSai Today | SaiLiterature |
| MyExperiences | MyPrayers | May I Answer | LIVE Channel | Sai Om | Home|

Sai Baba of Shirdi is the Symbol and Essence of all religions.

No religion was ever intended to be anything more than the Gateway to God as Truth. Shirdi Sai is the Path and Goal in the realisation of this Truth.
Through this website we pray to Lord Sai to make us His humble instrument in presenting some facts on His life and preachings. Our mission would be fulfilled if this brings people closer to Shri Shirdi Sai Baba. You can also join this effort by inspiring your friends to visit this site and invoke His blessings
This effort has the divine blessings of Guruji Shri C.B.Satpathy, in who we find the clearest manifestation of Sai Spirit and the embodiment of Sai Oversoul. We appreciate the active support and guidance by his research team in this endeavour.
Send in your feedback / suggestions to webwriter@shirdibaba.org


Online since 13th February 1998