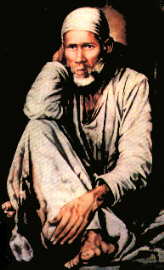 | About SriSai | His Teachings | Shirdi | ChildrenSai | Album | Aartis |
| Perfect Masters | Temples | SriSai Today | SaiLiterature |
| MyExperiences | MyPrayers | May I Answer | LIVE Channel | Sai Om | Home|

Sai Baba of Shirdi is the Symbol and Essence of all religions.

No religion was ever intended to be anything more than the Gateway to God as Truth. Shirdi Sai is the Path and Goal in the realisation of this Truth.
Through this website we pray to Lord Sai to make us His humble instrument in presenting some facts on His life and preachings. Our mission would be fulfilled if this brings people closer to Shri Shirdi Sai Baba. You can also join this effort by inspiring your friends to visit this site and invoke His blessings
NOTE: This website is not connected or affiliated to any other website(s) or organization(s) in any form or nature. This site does not claim or represent the Shri Sai Baba Sansthan at Shirdi. If you are interested in making a donation to the good cause of Shirdi, please contact the appropriate Sansthan Office at Shirdi. Please read our DISCLOSURES & DISCLAIMERS for additional information.

This website is administered and managed by:
Ravi Mehra & his team webwriter@shirdibaba.org
PO Box 26362, Overland Park, Kansas - 66226
Phone number +1 414 755 2555 (voicemails will be answered within 72 hours)

.